Dermatose nodulaire contagieuse bovine : situation épidémiologique dans les Balkans et en Turquie au 30 novembre 2017
Abstract Lumpy skin disease: epidemiological situation in the Balkans and Turkey as of 30th November 2017 Lumping skin disease is an enzootic viral disease in sub-Saharan Africa. After being detected for the first time in Turkey in November 2013, it then spread to Europe, first to the European part of Turkey in May 2015, then to the Balkans. This article reviews the epidemiological situation of the disease in the Balkans and Turkey as of 30 th November 2017. It reports the protective effect of mass vaccination campaign in the highly covered countries, specifies the clinical manifestations and characteristics of the disease in the EU and presents the surveillance strategy implemented in France against this category 1 health hazard.
La dermatose nodulaire contagieuse bovine est une maladie virale enzootique en Afrique sub-saharienne. Après avoir été détectée pour la première fois en Turquie en novembre 2013, elle s'est ensuite étendue à l'Europe, tout d'abord à la partie européenne de la Turquie en mai 2015, puis dans les Balkans. Cet article fait le point sur la situation épidémiologique de la maladie dans les Balkans et en Turquie au 30 novembre 2017. Il rapporte l'effet protecteur de la vaccination dans les pays qui ont bénéficié d'une forte couverture vaccinale, précise les manifestations cliniques et les caractéristiques de la maladie dans les pays de l'UE infectés et rappelle la stratégie de surveillance mise en place en France contre ce danger sanitaire de catégorie 1.
Fichier principal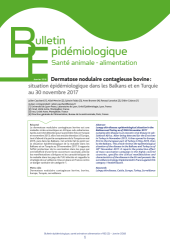 N-020_2018-01-23_DNCB_VSI_MaqVF_0.pdf (1.03 Mo)
Télécharger le fichier
Origin : Explicit agreement for this submission